Value.able Book
Value.able shares with us the right mindset which every investor should start off with and how we can identify extraordinary businesses subsequently. Most importantly, it teaches us the different valuation models for stocks valuation. By following the 3 simple steps mentioned in the book, investors are able to beat the various market conditions effortlessly.
Toggle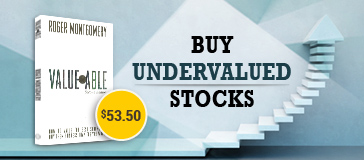 A Bull in China Book (Book Autographed by Jim Rogers)
The book illustrates how we can benefit from the Chinese revolution. It talks about how individual listed companies in SGX, HKSE, NYSE, NYSE Markets and NASDAQ invest in China, and the effects of these investments on the company earnings. With this information, we are able to spot the possible investment opportunities.
Toggle
View All Books
ShareInvestor Educational Series
06 Jun - Singapore Capital Expo June 2016
Singapore Capital Expo and Small Case Showcase June 2016
Toggle
11 Jun - FSM INVEST Expo 2016
FSM INVEST Expo 2016, Co-organised with ShareInvestor Indulge in a line-up of insightful seminars by distinguished industry experts with highlights on the global/local markets, portfolio construction and better introduction on the investment products offered by FSM.
Toggle
View all Events
ShareInvestor WebPro - Web-based
Full suite of fundamental data and technical charts
Spot potential counters for investment with the TA Market Scanner
Detailed financial reports and ratios for your stock analysis
Subscribe
FREE Trial
Details
ShareInvestor WebPro - Windows Application
Advanced trading software designed for active traders
Customisable screen layout across multiple monitors
Advanced charting tools and detailed price information for accurate trading decisions
Subscribe
FREE Trial
Details
Last Done:
$0.060
-0.011 (-15.5 %)
1st in Top Active at 04:00 (Delay 10 Minutes)
Background
No background available
View our FactSheet for all counters.
Close