Value Investing in Dividend Growth Companies
The book writes about the methods to study the financial health of listed companies and how dividend growth companies can be identified from the studies. You will learn the methods to forecast the future company performance as well.
Toggle
Show Me the Money (Book 1)
The book teaches you how to invest in stocks that are most likely to grow in value, how to balance your portfolio so that you have little to fear irregardless of whatever happens in the market, and last but not least, how to be ready to grab the opportunity for the next bull market.
Toggle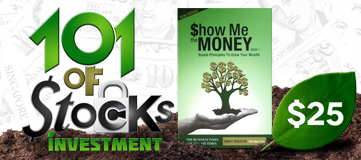 ShareInvestor Educational Series
ShareInvestor WebPro - Web-based
Full suite of fundamental data and technical charts
Spot potential counters for investment with the TA Market Scanner
Detailed financial reports and ratios for your stock analysis
Subscribe
FREE Trial
Details
ShareInvestor WebPro - Windows Application
Advanced trading software designed for active traders
Customisable screen layout across multiple monitors
Advanced charting tools and detailed price information for accurate trading decisions
Subscribe
FREE Trial
Details
Last Done:
$20.390
+0.030 (0.1 %)
4th in Top Turnover at 01:45 (Delay 10 Minutes)
Financials Summary
Based on 4th Quarter Dec 2014
Profit & Loss Summary (SGD$ '000)
Revenue
2,340,000
Profit Before Tax
1,012,000
Profit Attributable to Shareholders
838,000
Balance Sheet Summary (SGD$ '000)
Non-Current Assets
7,597,000
Current Assets
433,069,000
Long Term Liabilities
12,709,000
Current Liabilities
387,751,000
No. Of Ordinary Shares Issued
2,474,017
Ordinary Share Capital
10,008,000
Reserves
26,734,000
Shareholder's Equity
37,708,000
Minority Interest
2,498,000
Financials Summary is a very brief look at the financials of a company. We capture and provide the complete full year and interim Profit & Loss and Balance Sheet of each company by the next day of the result announcement.
View our complete Financials for all counters.
Close